We Were Wrong
These 11 Adventurous Things to Do in Coron and around Busuanga are Part 1 of our 4-Part Coron Getaway Guide in which we share our top tips for fellow independent travelers.
"Kim, there aren't many things to do in Coron. Let's cut our losses and go somewhere better."
Soon after our arrival in Coron Town, on Busuanga Island in the north of Palawan in the Philippines, we looked for flights to somewhere else.
We thought there weren't enough things to do in Coron to fill nine days. It seemed people just went diving and did lousy group boat tours. The town was noisy and the island was tiny.
We thought we'd made a mistake.
We were wrong.
Thanks to the advice and amazing hospitality of the long-time Busuanga Island residents we met, our trip was non-stop action.
Don't risk making the same mistake we almost made. If you're an adventurous traveler looking for a unique and unforgettable experience here are the best 11 things to do in Coron.
Outline
11 Things to Do in Coron, Palawan for the Adventurous
Where to Stay (& Rest Up for Tomorrow's Adventure)
11 Things to Do in Coron for Independent Travelers
Map
This map will give you and idea of what's wear.
To learn how to save this map to your phone for offline use, check out our guide here.
1. The Absolute Must-Do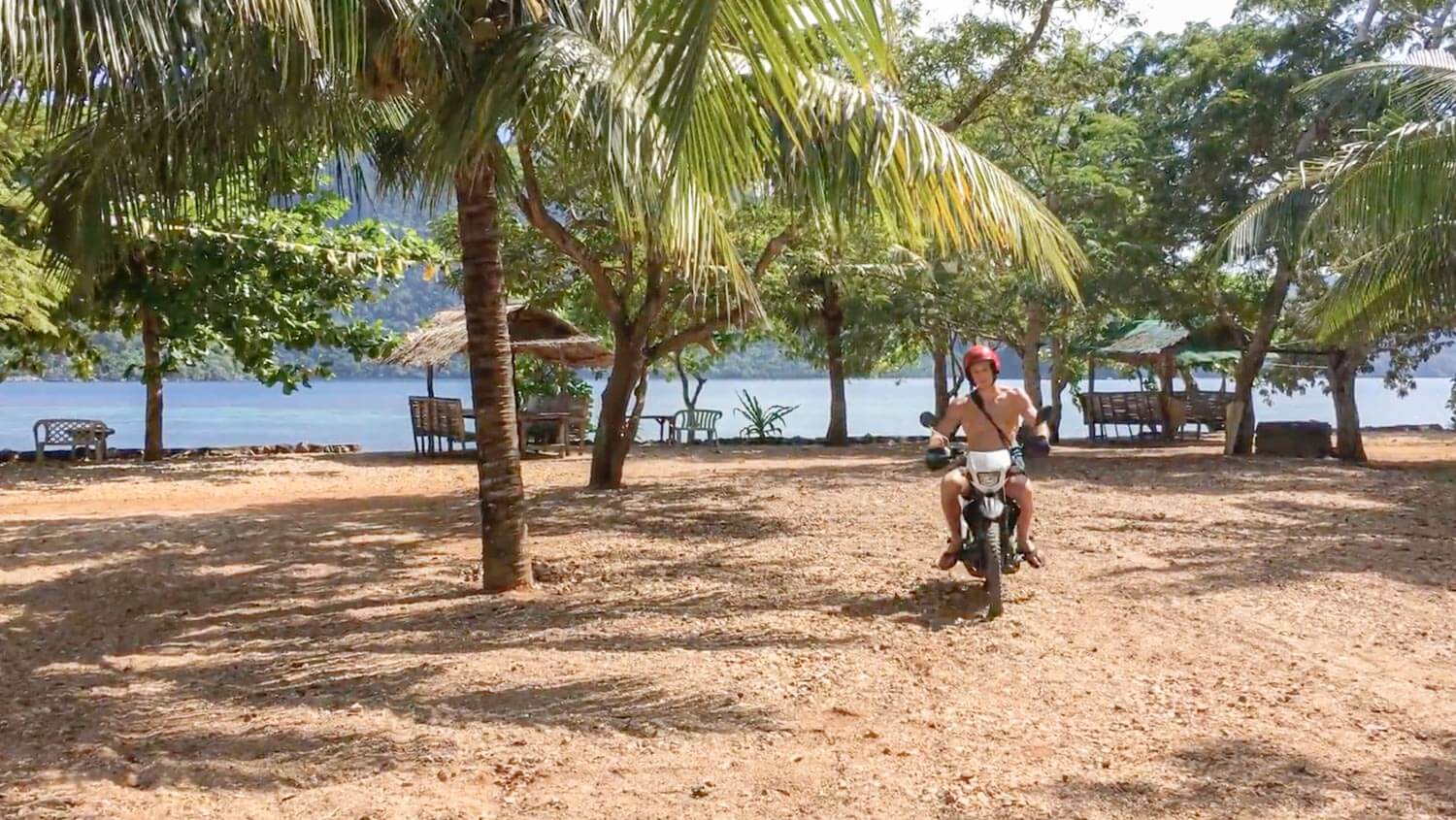 Rent a Motorcycle
You're missing out big time if you never escape the Coron Town / Island vortex. Most of the best things to do in Coron, Palawan are outside of town. So get a motorcycle and get outta there.
Don't worry. Motorcycles are easy to drive, there's almost no traffic outside of town, and the roads (with a few exceptions) are in great shape. Plus it's cheap! We paid the equivalent of $8.20/day to rent a good quality semi-automatic bike.
Practice driving with one hand because everywhere you go the incredibly friendly Filipinos will wave at you.
Nuts & Bolts:
Rent from Boyet. To find his shop, head towards the "National Highway" in the direction of the airport. It's only about a five minute walk from the main strip of restaurants and hostels. Ask around if needed. Everyone knows Boyet. Everyone.
He'll sit you down, give you a hand-drawn treasure map, and explain all the things to do in Coron, Palawan.
The guys knows his stuff: He gets island reports from every tourist who rents from him and every month he goes with his wife and group of friends on a reconnaissance tour of the island.
[2019 Update] Or Maybe Don't Rent From Boyet?
Teri shared in the comments that she had a terrible experience with Boyet and that quite a few other reviewers on TripAdvisor and Google had similarly negative experiences.
Our experience with Boyet was perfect, but maybe we got lucky or maybe there are multiple "Boyets" in town, as one reviewer suggests. In any case, exercise caution when renting your motorbike.
2. The Filipino Family You Didn't Know You Had
A Day (or Three) With Guido in Hikari
Guido is Boyet the motorcycle baron's father-in-law. I wish he was my father-in-law. He is perhaps the most genuinely nice guy on the Busuanga.
We did a 1000 peso (~20USD) private boat tour with him and his son (#12 he calls him because he's the 12th child) to snorkel a shipwreck and coral gardens, dive for conch, and have lunch on his own private beach. That in its own is amazing value. But on top Guido let us stay in his extra room for free, cooked up the conch we — he — found into a delicious adobo appetizer, and took us on an unforgettable firefly and phosphorescence night boat tour for just the cost of gas. Amazing.
That evening we spent hours listening to his story of being an ex-karaoke kingpin and packing his whole life (and 26 family members) into two boats for a 48 hour migration from Cebu to Palawan, and more. The guy needs to write a book.
And don't overlook the firefly and phosphorescence tour. I don't want to spoil it for you, so I'll just say our very low expectations were blown away.
Nuts & Bolts:
To find Guido, talk to Boyet. Guido has big plans for expansion and internet prescence, but for now he can only be found through his son-in-law, Boyet. His place is about a 1 hr motorcycle ride from Coron Town.
3. The Coron Island Tour the Old-Fashioned Way
Kayaking Coron Island
If you're fit and the weather's nice, renting a kayak and paddling to and around Coron Island is definitely one of the unmissable things to do in Coron, Palawan.
The paddle isn't as far as it seems and the island is so much more beautiful when you can skirt it's intimidating shoreline on your kayak, exploring the hidden inlets and deserted beaches, and seeing the fish and corals through the calm, clear water. Plus you'll burn off all that rice.
Kim and I started paddling at 10:20, explored the whole northwest corner of Coron Island, had a relaxing private beach lunch stop on the island, broke up our return trip to do some people watching at crowded CYC beach, and were back by 4pm, the same time as all the packaged boat tour groupies. The difference is we were fitter, happier, more tanned, and had more money in our pockets.
Nuts & Bolts:
Rent your kayak from Sea Dive Resort. Don't bother looking elsewhere. Everyone else quoted us 1000 pesos for a double kayak; Sea Dive charged 450. No questions, no forms to fill out, and no… lifejackets.
4. The VIP Coron Island Tour (That's Cheaper than Packaged Tours)
Private Boat Rental
For 1800 pesos ($37 USD) split across five people, we chartered a private boat for the day to take us to whichever beach or snorkelling spot we wanted around Coron and Dimanglet Islands.
Not only was it extremely relaxing and liberating to go where we wanted when we wanted (as opposed to the packaged tours that herd you around), but our captain and his assistant had a surprise up their sleeves (or their flip flops I guess, since they were shirtless):
They were fantastic chefs!
We knew they would cook for us – it's included in the cost – but we had no idea these two chain-smoking, gap-toothed, salt-and-sun-worn men spent their free time watching the Food Network. Somehow they turned the random mishmash of ingredients we bought into a lunch spread rivaling that of a high-end hotel buffet.
While the cooking comes with the price of the boat, you buy your own ingredients at extra cost. To do so, our captain's cousin guided to the local Coron market, where we bought a cornucopia of fresh local seafood, seaweed, beer, gin, vegetables and of course, a kilo of rice. Even if you don't rent a boat, checking out the market is among the worthwhile things to do in Coron, Palawan.
While the food was certainly a highlight, the whole day was pure luxury, relaxation and decadence. Better yet, it was all for less than $12 USD each!
Nuts & Bolts:
To find a boat, head down to the pier in the morning of the day you want to go (no need to plan in advance). Be prepared to negotiate. They'll tell you 2,500 pesos is the bare minimum. In reality it's about as bare as me walking to work in Canada in the winter. There's plenty to strip off.
How to find people to join you and split the cost? Head to happy hour at No Name Bar in Coron Town the night before. Kim and I spent an hour sipping 40 peso ($0.90 USD) rum and waters (with generous amounts of calamansi, the local lime) and managed to find and recruit a like-minded group to join us.
5. The Pre-Tourism Coron Experience
Kayaking in North Busuanga
While the islands and waters around Coron Town and Coron Island are teeming with tourists, there's nobody in the north of Busuanga Island. And it may even be more beautiful.
Indeed, our favourite beach of the whole trip was on Rock Island, a tiny paradise where Kim and I spent an afternoon resting from the long paddle over, collecting shells, and reading. There was nothing to distract us but the sound of breaking waves (… and two dogs. You can't escape the dogs in the Philippines.
Nuts & Bolts
Rent your kayaks from the incredibly hospitable Brenda, manager of Vicky's Guesthouse The Cheeki Diver Inn.
6. The Authentic Island Getaway
June 2019 Update:
Brenda, the heart and soul behind Vicky's Guesthouse, has moved on—but not very far!—to The Cheeki Diver Inn just down the way.
So far the reviews are fantastic (unsurprisingly), so definitely consider staying there and that everything we write here about Vicky's Guesthouse applies to The Cheeki Diver Inn.
Vicky's Guesthouse
Kim and I came for a day trip… but didn't go back. The place was too relaxing.
And it ended up being the #1 of all things to do in Coron, Palawan for both of us (read our top 5 picks here).
Located at the far end of Maricaban, a village so sleepy that the road through town doubles as a regulation-sized basketball court, it is a far cry from the endless vroom-vrooming and honking of Coron Town. The guesthouse is perched right on the water, making it a perfect spot for relaxing daytime hammock reading, tropical island beach exploring, and night-time fish viewing.
Everything is hassle-free. Your only distraction will be the local kids who hang out with Brenda and her baby son, and occasionally practice zumba dancing. And when your stomach starts growling, just let Brenda know what you feel like and when (and maybe buy some ingredients at the little shops down the street) and her staff will prepare it for only $2-$3USD per meal.
Nuts & Bolts:
Vicky's is just over an hour motorcycle ride from Coron Town. Boyet the motorcycle baron (see above) will give you all the directions you need.
7. The Most Famous of All Things to Do in Coron, Palawan (That We Didn't Do)
Diving
We didn't dive, but we'll add it to our list since everyone says it's great especially if you're into wrecks.
Nuts & Bolts:
Brenda at Vicky's The Cheeki Diver Inn (see above) is a dive master, so she is the best bet for doing dives in the north of Busuanga and giving unbiased tips for othere dive sites and shops around the island.
8. The Cheers Bar of Palawan
Hang Out At Get Real Café and Bar
Get Real Café and Bar is exactly why we nominated The Philippines as the best country in the world to get to know locals in our guide to the 15 Best Countries to Visit for 15 Unique Types of Trip.
Our trip wouldn't have been the same if not for the amazing hospitality of Maui, Mike, Gerard, Daniel, and all the others that work and hang out there.
We initially went to try the tamarind-infused vodka Raul, which the owner of Pedro's Gelato recommended us. Their deep and delicious nachos (whose chips are fried to order!) sucked us in. And we were brought back every night to hang around with the gang of locals and managers who really know how to have a good time.
Just like Cheers from the TV show, by the end it was a bar where everyone knew our name.
Nuts & Bolts
Get Real Café and Bar is on Real St. by the intersection of Burgos St. in the center of Coron Town.
9. The World's Easiest Mountain Summit
Sunset Mount Tapyas Hike
Kim and I were skeptical when our friend Maui from Get Real Café and Bar invited us to join him on his daily "hike" up Mount Tapyas. What kind of mountain is only 721 steps high? How could the views be any good from only up there? And wouldn't there be too many tourists?
Our doubts were unjustified. Maui was right.
After drinking and eating all day VIP-style on our private boat tour (see above), we weren't exactly in the best possible shape for this "hike". But, with my bag packed with an icy cocktail of local gin and calamansi, and sunset just a quarter hour away, we summited the "mountain" in just under 8 min (beat that!). Most mountain peaks can't be reached that fast even by helicopter.
But as they say, sometimes great things come in small packages. Maui led us off the busy viewing platform to a secluded rock around the corner, and the view was spectacular. It really put the whole area's geography into perspective. We went our last night in Coron, which was a fitting cap to our amazing stay, but we recommend you go on your first evening to get a lay of the land and visually take in the things to do in Coron, Palawan.
Nuts & Bolts:
The stairs for Mount Tapayas are just a few minutes walk up San Augustin St. from the center of Coron Town.
10. The Distant Destination
Ocam Ocam and Black Island
Ocam Ocam is the rare place on Busuanga Island where you can actually stay right on the beach.
An isolated fishing village of 96 families at last count (which apparently they do often since it's so easy and there's not much else to do), Ocam Ocam didn't even have a road connecting it to the rest of the island up until about 10 years ago.
Not much has changed since apparently, making this a getaway from a getaway. There is one (soon to be two) small "resort" (1500 pesos or $30 USD a night for one of the 5 or 6 bungalows), one guesthouse (500 pesos a night), a few shops selling only packaged preserves, no restaurants (your guesthouse will cook for you), no cell reception, and (almost) no electricity at night.
We were the only tourists in town and spent a good deal of time wandering around seeing if there was anyone with very good English who could provide us tips (nope), anywhere we could buy beer (nope), places to eat other than our guesthouse (nope), and anyone willing to take us on a boat to Black Island the next day (yep!).
A Black Island tour is the one thing to do besides relaxing on the beach or a hammock. With its impressive ragged cliffs (guess what color?), big soft sand beach, and easily accessed cave with an underground swimming hole, it's a nice, albeit somewhat expensive day trip.
Nuts & Bolts
Read our detailed post on Ocam Ocam to get all the info you'll need for your trip.
Ocam Ocam is about 75 kilometres from Coron Town, which will take roughly 3 hours. The last 4 kilometres are rough, especially during or just after the rainy season, so only go if you're reasonably comfortable with your motorbike.
Black Island is a 30 minute boat ride from Ocam Ocam. Renting a boat to take you there is about 1,500 pesos and the entrance fee for the island is 200 each.
11. The Perfect Final Thing to Do in Coron, Palawan
Funny Lion Dip n' Dine
Pay 500 pesos (just over 10 USD) to get all-day access to The Funny Lion's serene mangrove-encircled pool and get 400 peso credit to their fantastic restaurant (one of our top food choices in Coron). It's an unbeatable way to enjoy a relaxing day before heading on to your next destination.
Nuts & Bolts:
When the hotel is fully occupied, they don't allow walk-ins, so call (+63 905 395 5445) or email (inquiries@thefunnylion.com) the Funny Lion to confirm availability before you go.
Getting to the Funny Lion is easy: it's a 4 minute, 20 peso tricycle ride out of town. Ask the receptionist of the hotel to coordinate your shuttle to the airport (150 pesos), which will pick you up on the way from Coron Town to the airport (30 min).
Where to Stay in Coron
For A Waterfront Oasis Conveniently Located in Town:
The Bay Area Coron
Since you're staying on an island, you ideally want to be by the water. Unfortunately, most waterfront hotels in Coron Town take too much advantage of their location and don't bother providing great service or maintaining comfortable rooms. The Bay Area Coron is an exception.
This bed and breakfast has excellent staff and an absolutely perfect location for travelers who want the relaxing island vacation feel but still close to the restaurants, activities, and action of town. With rooms as low as $39 USD, it's great value.
Check availability and reserve without a credit card and with free cancellations by clicking here.
For A Very Low-Cost Island Getaway:
The Cheeki Diver Inn
We already gushed about Brenda's, the manager of Cheeki Diver Inn, hospitality at #6 in our list of favorite things to do in Coron, above.
You can book a stay with her on Airbnb.
If you've never used Airbnb before, get $45 off your first stay by booking through our link.
For A Friendly, Social, Vibe:
Coron's New Breed of Hostels
A bunch of hostels have opened up since we visited. Even though we can't vouch for them personally, the stellar reviews they've been getting make them worth mentioning.
Happy Camper Hostel: I couldn't find a single negative review for Happy Camper Hostel. As an ex-hostel owner myself, that's incredible. The owner obviously knows what he's doing. If I were to visit Coron again by myself, this would be my choice.
Hop Hostel: Hop Hostel is a big, modern, hostel up the hill behind Coron Town. Most people love it (especially the big comfy beds, views, and facilities), but some complain about overly strict policies and nickel-and-diming.
For Couples and Friends on a Tight Budget:
Mommita's Lodge
Mommita's Lodge is a cross between a homestay and a hotel and is smack dab in the center of Coron Town—i.e. it can be noisy but it's convenient and affordable. Esther "Mommita" Reyes lives up to her name by being your host mom for your trip, helping you sort out everything you need to have an awesome stay.
Our friends from the private boat tour stayed here. They didn't rave about it, but were happy with the price, location, and AC.
Mommita is old-school, so to book you have to email her at mamitaslodge@yahoo.com.
How to Have an Awesome Coron Adventure
Discover what else we most (and least) enjoyed around town and around Busuanga by completing our 4-part Coron Getaway Guide:
The best foods we had in Coron Town and around Busuanga Island.
Our worst experiences in Coron and what locals advised us not to do.
Quick advice for visiting this sleepy beach village.